Maldives Correctional Service in collaboration with Maldives Immigration has inaugurated the "Detainees Enrichment Programme".
The Programme was inaugurated by Commissioner of Prisons Ahmed Shihan at a ceremony held last night at Hulhumale' Prison. While speaking at the ceremony, CP Shihan said that he congratulates those involved with organising and executing the Programme and he was pleased to note that the services being provided to the detainees under the care of Maldives Correctional Service were improving daily.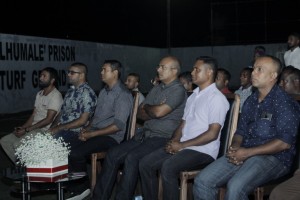 The ceremony was also joined by Deputy Commissioner of Prisons Hassan Zilaal, Commissioned Officers and senior-ranking officers as well as officers of Huilhunmale' Prison and invitees.
The Detainees Enrichment Programme is formulated to provide educational and vocational courses and training to expatriates detained by Maldives Immigration and held at the Detention Centre of Hulhumale' Prison. The Programme is also set to provide health awareness among the detainees.
Maldives Correctional Service continue with several endeavours to educate and train inmates in various fields as well as increase health awareness among them. In that regards, different training programmes and workshops on health is also carried out to create awareness among inmates.