Team Asseyri has last night won the fifth match of ICOM PRC Futsal Tournament after beating Team Hulhumale' Prison with a score of 4-1. The Tournament is organised by
Prison Club of Maldives Correctional Service.
The match was played at the Futsal Ground of Maafushi. Team Asseyri had played a tremendous game while Team Hulhumale' Prison had not been able to fully-utilised goal scoring opportunities despite playing well.
The Man of the Match was Team Asseyri's Jersey no. 17, Ali .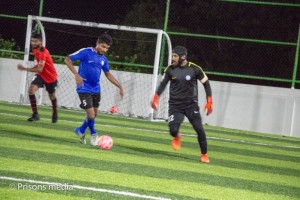 Last night's second match was won by Team HQ after beating Team Maafushi Prison with a score of 4-2.
Team Maafushi Prison had made several dangerous attempts towards scoring.
The Man of the Match of the second match was Team HQ's Jersey no. 6, Ahmed Ashraf.
A total of five teams are participating in the Tournament, i.e, Team Maafushi Prison, Team Asseyri Prison, Team HQ, Male' Prison and Team Hulhumale' Prison.