Team Male' Prison and Team Asseyri Prison has moved to the final of ICOM PRC Futsal Tournament organised by
Prison Club of Maldives Correctional Service.
The semi final matches were held at Maafushi Futsal ground last night; where the first match saw Team HQ play against Team Male' Prison while the second match saw Team Maafushi Prison play against Team Asseyri.
During the first match, Team Male' Prison had scored the first goal, though Team HQ were soon to score an equaliser. But near the end of the 2nd half, Team Male' Prison had scored another goal and turned the game in their favour. Team HQ made three dangerous shots towards the goal but they had rebounced after landing on the goal stand.
Team HQ had won the match these two teams had played during the group stage.
The Man of the Match of the first match was Jersey no. 7 of Team Male' Prison, Ismail Zareer.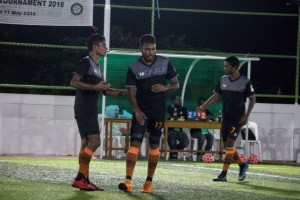 Last night's second match was won by Team Asseyri with a score of 2-1.
Both teams had played very well and competitively with dangerous attempts towards scoring.
The Man of the Match of the second match was Team Asseyri's Jersey no. 10, Hussain Nafiz.