Maldives Correctional Service (MCS) has today held a certificate-awarding ceremony at Maafushi Prison to conclude three training programmes conducted for prison officers in collaboration with United Nations Office for Drugs and Crime (UNODC).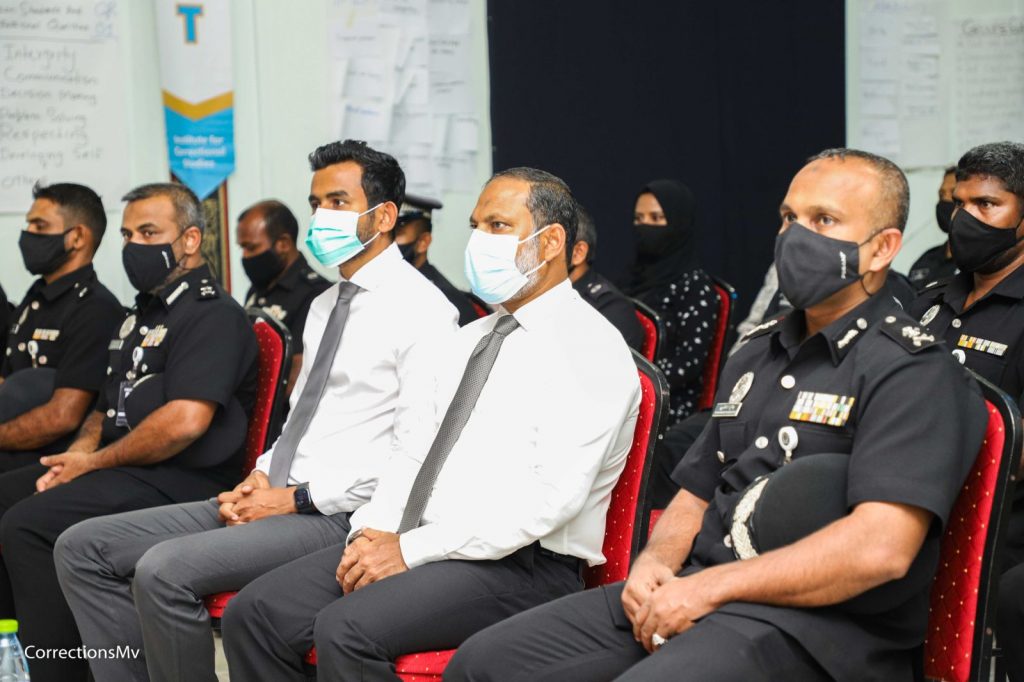 The three trainings, held from 11th December to 22 December are "Dynamic Training TOT" with 19 participants, "Training on Rehabilitation and Reintegration in prison" with 25 participants and "Training on Countering Violent Extremism in Prison" with 25 participants. A total of 69 officers completed the three trainings.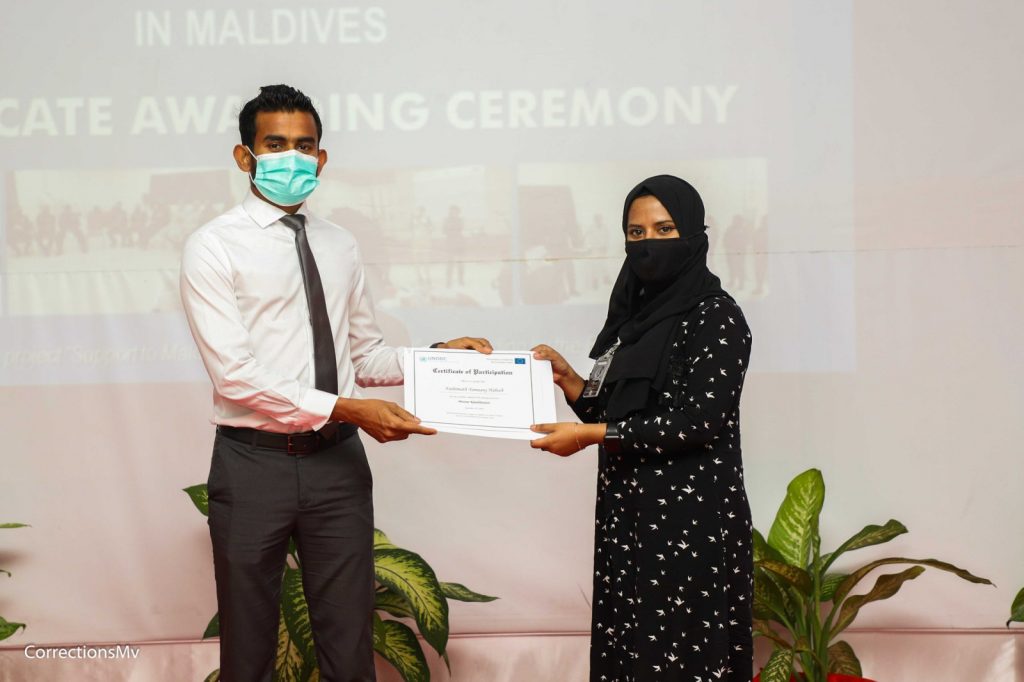 The Chief Guest for the ceremony was Minister of Home Affairs Honourable Imran Abdulla, while UNODC National Programme Coordinator Ms Thoiba Saeed, Commissioner of Prisons Ahmed Mohamed Fulhu, while Deputy Commissioner of Prisons Uz Ibrahim Mohamed Didi, commissioned officers and participants of the programme also joined the ceremony.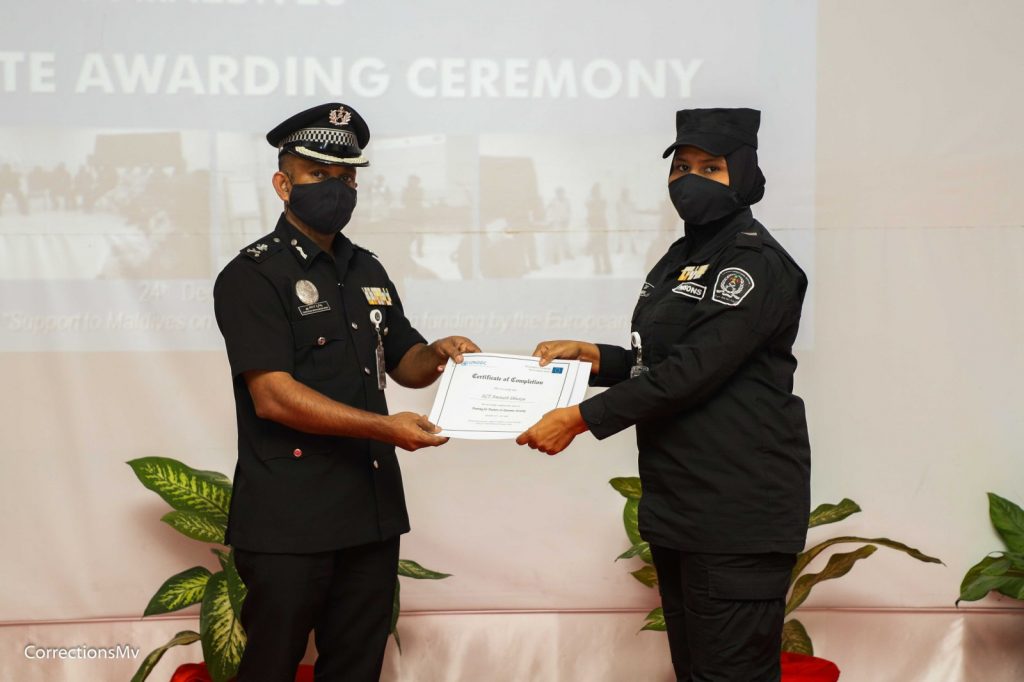 During the introduction of the ceremony, UNODC National Programme Coordinator Ms Thoiba Saeed noted the ease at which the trainings were conducted due to the officers of Institute for Correctional Studies (ICOST) and also noted the interest of the participants and their support. She further stated that she expected that the work done in collaboration with Ministry of Home Affairs were sustainable work at an acceptable level.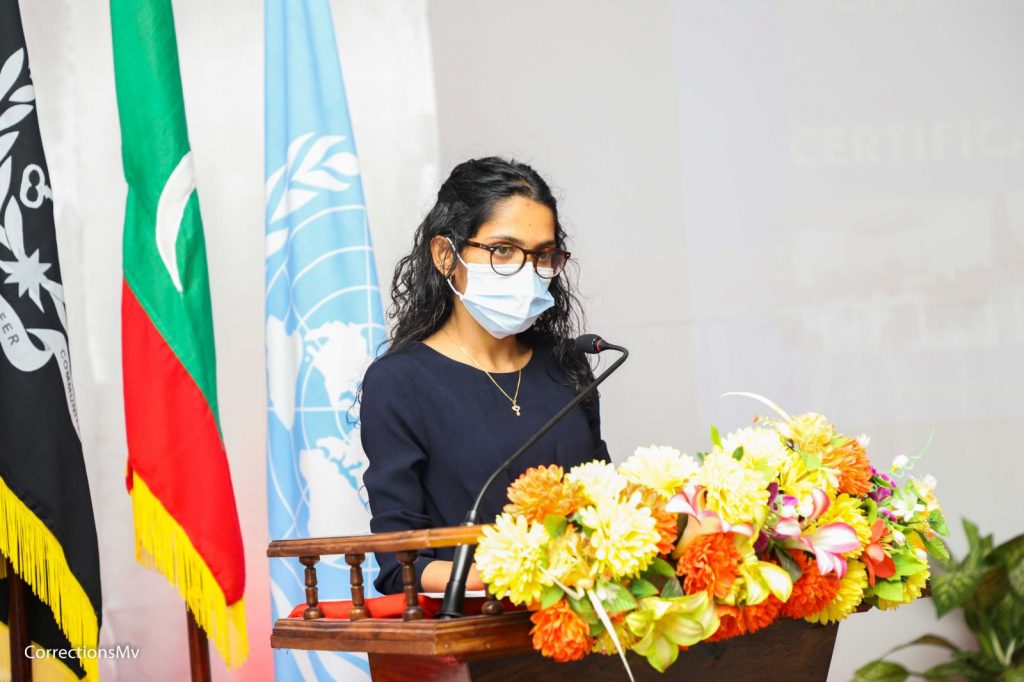 In his speech, Minister of Home Affairs Honourable Imran Abdulla said that these trainings were crucial to the improvement of the services at the prison as well as for the prison officers, who are responsible for the rehabilitation of the inmates and their subsequent reintegration to the society. He also said that similar to other countries, extremist thinking is being spread in Maldivian prisons and as a result when faced with challenges, one of the most important things to do to find a solution is to be trained and aware of how to communicate with such inmates.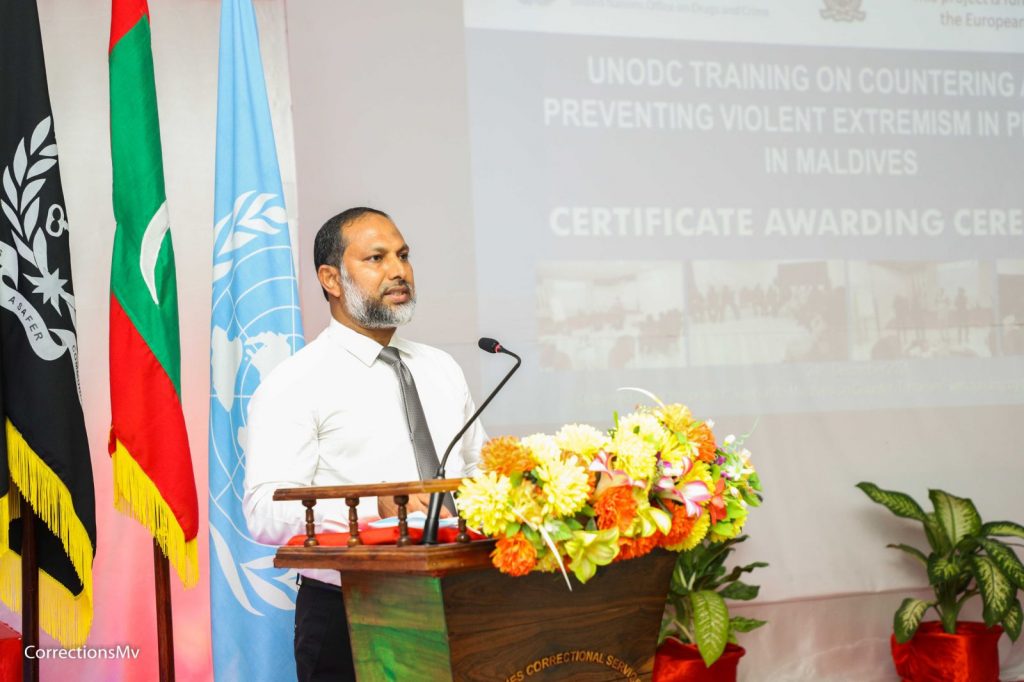 Commissioner of Prisons Ahmed Mohamed Fulhu congratulated and thanked the prison officers that completed the trainings and said that there are several things being done to improve the situation at the prisons and priority is being given to enforce three main policies. He said the first policy is to develop prison and civil officers of Maldives Correctional Service to be a workforce that is hard working, trained, skilled and capable; while the second policy is to develop the infrastructure of prisons. Thirdly, to reform prison policies to that of international standards, the Commissioner said.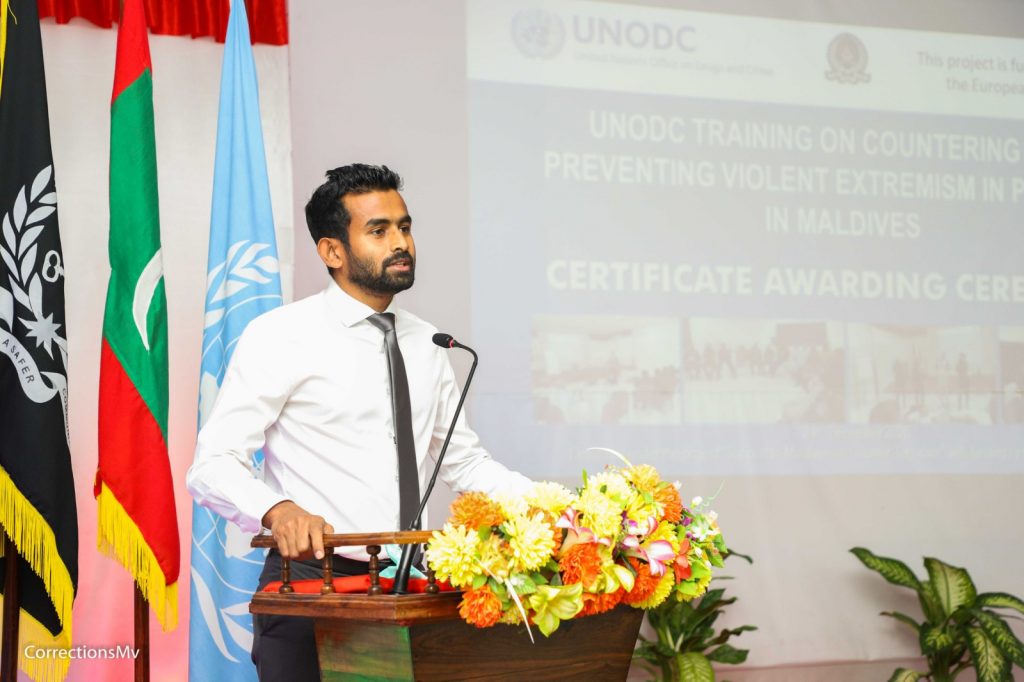 The training programmes were conducted by MCS and UNODC with the funding provided under "Counter-Terrorism Support Project" of European Union (EU) and with the support of Ministry of Home Affairs. The trainings were conducted by UNODC Consultant Ms Aida Mnyolmo.
In addition to the above-mentioned trainings, "Train the Trainers" programme on "The United Nations Standard Minimum Rules for the Treatment of Prisoners (The Nelson Mandela Rules) were also recently conducted for prison officers.