Commissioner of Prisons Ahmed Shihan has yesterday visited the units housing the inmates of various phases of RehabilitationFramework at Maafushi Prison and inquired about their well-being.
The Commissioner was joined by Deputy Commissioner of Prisons Hassan Zilaal, Deputy Director of Maafushi Prison ASP Abdullah Ameen, Commanding Officer of Emergency Support Group (ESG) CPO Abdul Ghanee as well as senior ranking officers of Maafushi Prison.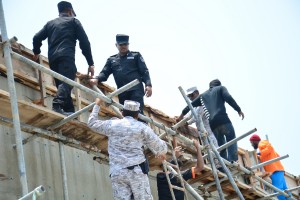 CP Shihan had visited the guard points of officers and inspected the equipment in place at the points. He also visited the agricultural site of Maafushi Prison and inquired about their work from the inmates.