Maldives Correctional Service (MCS) has today signed a Memorandum of Understanding (MOU) with State Electric Company Ltd (STELCO) to carryout Community Re-integration Programme for inmates as part of its efforts to rehabilitate inmates and release them into community as reformed and skilled individuals.
The MOU was signed this morning at a ceremony held at the Hulhumale' Power House. Commissioner of Prisons Ahmed Shihan signed the MOU on behalf of MCS while CEO of STELCO Honourable Ahmed Zuhoor represented the Company.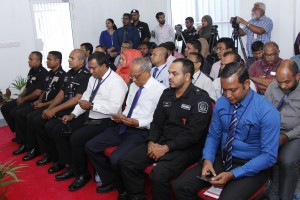 The ceremony was joined by top officials and employees of both institutions as well as some inmates participating in the Community Re-integration Programme.
The Community Re-integration Programme provides the opportunity for inmates with the best conduct and deemed as unthreatening for the community to work at STELCO's sites at Hulhumale' and earn an allowance-based income.
STELCO contributed to the Community Re-integration Programme under their Corporate Social Responsibility (CSR) initiatives.
Following the signing of MOU, CP Shihan and CEO Zuhoor responded to the questions raised by the media personnel present at the ceremony. While answering such queries, CP Shihan said that the inmates who participate in the Programme will be housed in Hulhumale' Prison and will be escorted to and from the work site to the prison everyday. He also stated that the security of inmates will be maintained by MCS prison officers. CEO Zuhoor stated that the inmates will be working at various sites to install cables and substations for STELCO. A total of 30 inmates are to participate in the first phase of the Programme. CP Shihan further added that though the duration of the MOU is 12 months, options are there to increase the duration of the MOU as well as the number of participating inmates.