ICOM PRC Futsal Tournament organised by Prison Club (PRC) of Maldives Correctional Service (MCS) has officially started last night.
The Tournament was opened by Commissioner of Prisons Ahmed Shihan at a special ceremony held at Maafushi Prison. The ceremony were also joined by Deputy Commissioner of Prisons Hassan Zilaal, Director of Maafushi Prison and President of the Prison Club CPO Abdul Ghanee, directors of prisons and Commissioned Officers.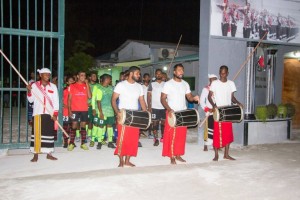 The Tournament was opened with a lively dance act followed by a video presentation to introduce the teams participating in the Tournament.
A total of five teams are participating in the Tournament, i.e, Team Maafushi Prison, Team Asseyri Prison, Team HQ, Male' Prison and Team Hulhumale' Prison.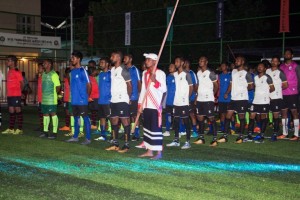 Each team will play against each other in the first round and the leading four teams will move on to the semi-finals. The two winning teams of the semi-finals will move on to the finals to fight for the championship, while the second runner-up team will be chosen after a match between the two losing teams of semi-finals.