Maldives Correctional Service has yesterday commenced the "Training for Trainers" programme at Maafushi Prison.
The programme is targeted for prison officers and was inaugurated by Deputy Commissioner of Prisons Hassan Zilaal.
The opening ceremony was also joined by Executive Director of ICOST SPO Ahmed Shahid, faculty heads of ICOST and facilitators.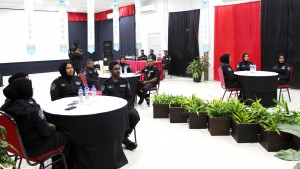 While speaking at the ceremony, DCP Zilaal said that the officers who complete the programme will move on to become officers who work at phases of Rehabilitation Framework and it was very important to fully-utilise such opportunities. He also said that further training opportunities will be provided from abroad to those who are thorough and working in the field.
The 10-day programme trains officers to conduct programmes for inmates as per the phases of Rehabilitation Framework as well as instill teaching skills.