Commissioner of Prisons Ahmed Shihan has stated that Maldives Correctional Service is facing a very chaotic time.
CP Shihan made the statement while speaking as the chief guest at the ceremony held yesterday to inaugurate the 21st Basic Training Programme at Maafushi Prison.
Commissioner said that he welcomes all the officers for enlisting for such an institution during these difficult and trying times.
Commissioner also said that all officers should fully utilise what they had learned during the training once they complete the training and enter the actual working environment.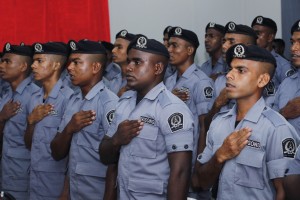 While highlighting the creation of the training programme, CP Shihan stated that in the past no custodial supervision training existed and prison officers were sent to Australia for such training. Today ICOST is built on the foundation of the work carried out by those trained officers.
The 21st batch of the Basic Training Course is joined by 29 male officers and will be carried out for 17 weeks.