Female inmates of Maafushi Prison has participated in International Women's Day celebrations held at the Prison.
Two teams of female inmates had played a friendly volleyball match yesterday morning as part of the Women's Day celebrations. The purpose of the volleyball match was to include inmates in the celebrations, to inspire love for the community and to provide a safe and friendly environment for them to participate in such activities.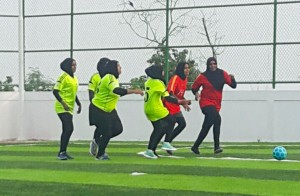 Maldives Correctional Service strives to involve inmates in various celebrations of special days so that they feel included, which is an important step in there rehabilitation and consequent release from prison as it helps to reform and change their thinking into positive ones.
In addition to the volleyball match, Women's Day activities also included a friendly futsal match between female prison officers and civil staff of Maafushi Prison.