The male prison officers of Maafushi Prison of Maldives Correctional Service has held a reception for female prison officers and civil officers of the Prison to celebrate International Women's Day. The reception was held last night at Maafushi Prison.
The reception was honoured by Commissioner of Prisons Ahmed Shihan, while Deputy Commissioner of Prisons Hassan Zilaal, Director of Maafushi Prison DSP Mohamed Tholaal and senior prison and civil officers of Maafushi Prison and Head Office also joined the reception.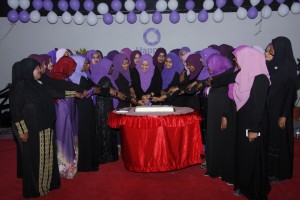 The senior officers of Maafushi Prison had performed a special dance item at the reception followed by the cutting of a customised cake.
Though Women's Day has beeb celebrated globally for more than a hundred years, it was first celebrated in 1911.