Prison Cooperative Society (PRISCO) has yesterday held its Annual General Meeting for the year 2017 at Maafushi Prison.
At the meeting, members were shown a presentation of the annual report 2017 as well as the proposed budget for 2018 which were subsequently passed by the members. The proposed amendments to the articles of association were also passed.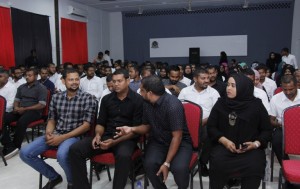 The meeting was joined by a large number of PRISCO members. A lucky draw was also carried out among the members who attended the meeting as well as those who were unable to attend the meeting due to their official duties.
This is the second AGM of PRISCO.
Prison Cooperative Society in an initiative of a few previous employees of Maldives Correctional Service and was formed under the article 7 of the Society Act to promote economic and social welfare of its members as per the decisions of taken by the board members.