Commissioner of Prisons Ahmed Shihan and Deputy Commissioner of Prisons Hassan Zilaal has today visited Maafushi Prison.
The Commissioner met with the senior management of Maafushi Prison and discussed incidents that occurred during the alert status of the Prison. CP checked how well the Prison had prepared for the alert status and also visited the newly-established Remand Unit of the Prison.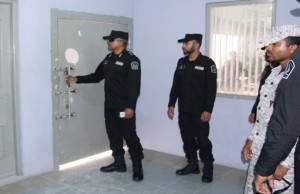 In addition, CP Shihan also checked the facilities and security provided to inmates of the "Special Protection Unit".
Maldives Correctional Service continues to take several measures in order to strengthen the operations of its prisons.