Prison Club of Maldives Correctional Service has last night held a Jersey-awarding ceremony at Maafushi Prison.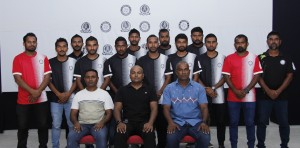 The jerseys were presented to the players and officials of the Prison Club (PRC) team participating in this year's Club Maldives Cup by Commissioner of Prisons Ahmed Shihan and Deputy Commissioner of Prisons Hassan Zilaal.
The first match of PRC Team is scheduled for tonight at 8:15 pm against Allied Insurance Team at Maafannu Stadium.